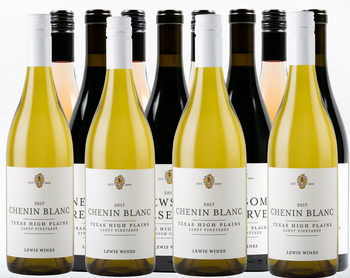 Single Vineyard Case- The High Plains
Free Shipping
We believe that great wine is made in the vineyard and that every vineyard produces grapes that are unique to that place. We work as hard as we can to produce wines that showcase the differences between vineyards, vintages and farming methods. When we are blessed with a good vintage, we're always looking to produce these kinds of wines. This case includes four bottles of three unique, single-vineyard wines sourced exclusively from the High Plains.
The 2017 Lahey Chenin Blanc has been a staple in our tasting room for a couple years now and is aging beautifully. In a perfect world, we would be releasing the wine now as it really drinking well. For those that are unfamiliar, this easy drinking Chenin is great with food or just a glass, and coming in at 10.8% you can have two or three glasses. Hand harvested and whole cluster pressed, this wine has a lovely soft-texture, nice aromatics and flavor, and ample acidity. We stirred lees, which are the leftover yeast after fermentation, for months while the wine was in tank, which accentuates the texture in a kind of creamy way. Due to the bountiful 2017 vintage, we bottled way more of this wine than anticipated, allowing us to offer this little gem at only $17 a bottle. This wine has been a staple for many restaurants like Dai Due in Austin or even Bryan's on 290 here locally in Johnson City. Central Market and Whole Foods also carry this wine, but as supplies are dwindling, they'll be running out before too long. $17/bottle
The 2019 Phillips Touriga Rosé is our first 100% Touriga Rosé bottling coming from Tony and Madonna Phillips' vineyard southwest of Brownfield. Although Tony and Madonna are relatively new grape growers and are still improving their skills and understanding of viticulture (farming vines), they have an incredible work ethic and their vineyard is a reflection of that dedication to doing things the right way. Jorge and Doug met a small crew at their vineyard in the middle of the night during harvest, and with a light tower and headlamps hand harvested the fruit for this wine. Same whole-cluster pressing technique we swear by for rosé wines, all stainless steel production. Touriga is a incredibly low-yielding variety with thick skins resulting in a deep purple color in the wines, and this rosé has a much deeper color than most we produce as a result. Don't let that fool you into thinking this is a big wine though, it actually has a silky soft texture and is relatively low-bodied at 11%. Loaded with floral aromatics typical of Touriga wines, this rosé is incredibly unique and drinking really well. As this is our first bottling, production is limited and we will sell out of this rosé first, get some while you can. $20/bottle
Our 2016 Newsom Reserve is the first bottling of this wine since 2012. We only bottle this wine in certain vintages, and the 2013 and 2014 crops were lost to horrible freezes. While 2015 started better without the spring freezes, the combination of a bad hail storm late in the season and an epic El Niño weather pattern (lots of rain) setting in that fall resulted in one of our most challenging vintages in the last 10 years. In 2016 luck was with us and we had a gentler vintage, with several of our plantings from 2011 and 2012 finally coming into production. This includes the first significant harvest of Petit Verdot from our own-rooted planting we did in 2011, and this wine has the color and structure you'd associate with Petit Verdot, a grape traditionally used in Bordeaux to beef up Cabernet and Merlot. This blend of 36% Cabernet Sauvignon, 31% Petit Verdot, 25% Tempranillo and 8% Cabernet Franc was assembled after 18 months of aging in used and neutral French Oak barrels. If you were a fan of the 2011 or 2012 Newsom Reserve wines, this wine is for you. We recommend decanting, enjoy with your favorite steak. $50/bottle
While supplies last we're offering free shipping on this case.