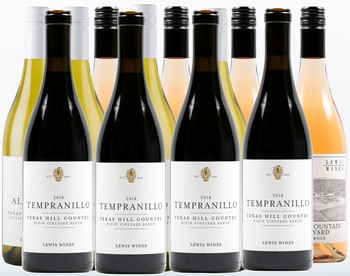 Single Vineyard Case - The Hill Country
Free Shipping
We believe that great wine is made in the vineyard and that every vineyard produces grapes that are unique to that place. We work as hard as we can to produce wines that showcase the differences between vineyards, vintages and farming methods. When we are blessed with a good vintage, we're always looking to produce these kinds of wines. This case includes four bottles of three unique, single-vineyard wines sourced exclusively from the Hill Country.
The 2018 Enchanted Rock Albariño is a delicious wine with incredible aromatics, medium body and ample acidity. The nose leads with loads of citrus and something like a summer rain in an alpine meadow. Albariño is known for incredible aromatic potential resulting from many aromatic compounds in the skins of the grapes. For this reason, even though we spend around 80-labor hours per acre hand-harvesting this variety at night, we elect to destemm the grapes, and allow the juice and skins to sit in contact together for around 4-5 hours before pressing. Another step in the process and conveniently enough time to eat a big breakfast and take a quick nap after harvesting grapes all night. One of our most labor intensive white wines, but also one of our favorites to drink! All stainless steel production. $28/bottle
The 2019 Round Mountain Rosé was set to be released in mid-March but obviously things didn't go as planned. This is the third vintage we've produced a rosé wine from Round Mountain, and 2019 might be our best vintage yet. A field blend of Tempranillo, Tannat and Touriga Nacional is harvested from the youngest vines at Round Mountain, which we planted from 2012-2014. Hand harvested at night, the grapes are loaded into our press "whole-cluster" in order to minimize the extraction of tannins. This technique is a critical step in producing dry rosé wines with soft texture. and we pride ourselves in being one of the first in Texas to utilize this technique. With most vineyards in Texas being machine harvested, this is one reason our rosé wines have always stood out from the pack. This wine is no exception, and showcases red fruit from the Tempranillo and Tannat, with a beautiful floral element from the Touriga and is a great example of what the Hill Country has to offer. Since 2011, we've worked to convert Round Mountain into one of the most sustainable vineyards in Texas, eliminating all herbicides, and shifting our fungicide and insecticides to organic products. We've relied mostly on compost, compost teas, cover crops and organic nutrients for fertilization. Although we've faced many challenges and learned many tough lessons, we feel that the health of the vineyard has improved tremendously over the last ten years, and wine quality with it. This wine is terroir driven, complex and delicious. $25/bottle
The 2018 Klein Tempranillo is a great example of what this variety is capable of in the Hill Country. For us, a truly great red wine drinks well young, and just keeps improving and improving with time. This is one of those wines. The Klein's vineyard is planted in shallow rocky soils, and deficit irrigated (not watered much) to limit the natural vigor of Tempranillo. This effectively reduces berry size and overall productivity, resulting in lower yields at harvest with small berries loaded with everything good in a grape for making serious red wine. 2018 was an incredibly dry La Niña-influenced weather pattern, which helped us make the vines struggle. Vines that are over watered and over fertilized never reach a critical "freak-out phase" in which they stop worrying about growing the plant and canopy, and focus their energy on ripening grapes, which helps to spread its seeds, but more importantly gives us the building blocks for a great wine. Without this stress, vines will build sugar in the grapes and lose acid, but never develop the potential for all the aromas and flavors we all love. This is why making the vines struggle is key to producing great wine. This wine needs a moment in your glass to wake up, as it is very young, but will evolve beautifully over time. We recommend decanting or at least tall pours. We believe this wine will age beautifully for the next 10-20 years, but we do have our doubts they'll make it that long without being drank. $40/bottle
While supplies last, we're offering free shipping on this case.