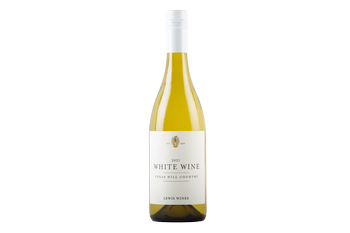 2020 Hill Country White
The 2020 Hill Country White Wine is a blend of 90% Verdelho from Bear Vineyards (formerly Tio Pancho Vineyard of Alamosa Cellars) and 10% Arinto from our Estate Vineyard. The crop was limited in quantity from an early freeze at the end of October 2019, the same freeze that dropped a foot of snow on the High Plains and decimated almost the entire 2020 vintage for our growers in West Texas. Fortunately, the damage was less severe in the Hill Country, perhaps only dropping yields by 40-50%, and despite the lower yields, 2020 was an excellent vintage in the Hill Country. Perfectly timed rains, low disease pressure, cooler summer nights and plenty of time to spend in the vineyard resulted in a special vintage.
Jim and Karen Johnson planted Verdelho back in 2008, making them the first to plant this variety in Texas. As with many other varieties they chose to experiment with, Verdelho does well here. They bottled several wines comprised of Verdelho, or Verdelho based blends under their label Alamosa Wine Cellars. We enjoyed several of them, I think 2012 and 2014 were standouts for me. Fast forward to 2016, Jim called us asking if we were interested in buying his grapes. They wanted to retire, sell the winery and vineyard and didn't want to keep producing wine in the interim. Hill Country fruit has always been a priority for us, and Jim's old vineyard was one of the first in the Hill Country to grow a lot of warmer climate varities so it was an easy decision to buy his grapes, albeit we had to harvest them ourselves.
Noelle Montag and Christos Desalernos bought the Johnson's vineyard with the intention of rehabbing some of the old vines, redoing the infrastructure and expanding the vineyard with new plantings. The 2020 crop comes from about 300 old vines that Noelle has painstakingly preserved and farmed for us, even though she has ripped out most of the other old blocks to prepare for replanting in the coming years. These old vines aren't fertilized or watered much, barely sprayed and otherwise very carefully tended to. Until the young vines are planted and into production, this wine will be very limited in quantity.
Long story short, we fall more in love with Verdelho every year we work with it, bottling several great wines from those old vines or at least blending with the fruit in short vintages. The 2017 Tio Pancho Verdelho is still one of our best wines to date, the 2018 is the base of our first Madeira (more on that this winter), the 2019 Hill Country White Wine was special too, but we believe the 2020 HIll Counry White Wine will be the best so far. Produced by in large the same way we've always produced these wines: night harvest, whole-cluster pressing, long cool fermentations and aging in stainless steel. The 2020 is different in that after fermentation, instead of racking the wine off of the lees (leftover yeasts cells that create a layer of sediment in the bottom of the tank) we let the wine age on the lees. This technique allows the wine to develop some complexity and nuance, but more importantly the lees infuse the wine with anti-oxidants, which lowers the need for SO2 additions to protect the wine during aging. Aged on the lees for 10 months at low temperatures to prevent malo-lactic fermentation and then gently filtered at bottling. This wine is a testament to what thoughtful farming, mature Verdelho vines, and a great vintage can make in the Hill Country. This wine will age very well and we recommend cellaring some, production was extremely limited with just over 1 ton of grapes harvested. - 68 cases produced
Wine Specs
Appellation
Texas Hill Country